Hi there. I'm back today with a little project for you for
Paper Issues
. The latest challenge is
Picnics and Patriots
. I chose this little stamp set because I thought it would be fun to make lemonade to bring along to a picnic, don't ya think?!
First up is the card.
I covered the card base with kraft, then die cut the label. Firstly a larger one in black and then another smaller one in white. I die cut the banner in white and then after cutting the sentiment into two (eek… I know… cutting stamps scares some people, but sometimes it's just gotta be done!) I stamped the banner and attached it to the panel. I stamped and Copic coloured the pitcher, glass and lemon.
The bottom part of the card is a monarch border by MFT and some more gingham paper. (All paper by
Authentique
). I tied on the twine and added the lemon. (I'm sure I saw this done by someone else somewhere but I can't seem to find who so if it was you, thank you for the inspiration! If anybody knows who please can you let me know because I really like to acknowledge those I've been inspired by). Speaking of inspired I was inspired by this sketch over at
Inspired by Stamping
..
and also by
Lawnscaping Challenge's
Color Splash.
I liked the idea of this challenge, it's a little bit like our colour splashes over at
The Play Date Cafe
but instead of it being just black and white with a pop of colour, it's to use neutrals with a pop of colour. Next up is the little bag..
Following the same theme I made up the little bag and then added the strips of kraft and gingham paper and the little black die cut banner. To finish I added the little doily and my Copic coloured lemonade pitcher and glass using foam dots.
Last up is the little recipe card..
Using kraft I covered the white card base and then just added the little black banner and some yellow gingham. I tied on some twine and then added the little Copic coloured lemon. My writing changed halfway through writing out the recipe, it looks like I was on the Limoncelllo when I made it lol.
I made this set for a very special friend of mine and there's a little story behind it. When we were on honeymoon in Sorrento, Italy, we found these amazing enormous lemons so as a joke we brought one back for her and said she would have to make some lemonade for us. She agreed, but when she cut open the lemon this was what she got…
The lemon in the middle is about the size of a large lemon that we would normally buy here in the UK! When she tried to juice it she barely got juice of one lemon, never mind the 5-6 we had estimated it would be lol. So as a little joke I bought her the
Lawn Fawn 'Make Lemonade'
stamp set and made her the little recipe card with a lemonade recipe I found on line here. Isn't this set the ca-utest!! It just makes you smile and it's really fun to colour. Speaking of colour the Copics I used where Y19, Y15 and Y11, with BG10 for the glass.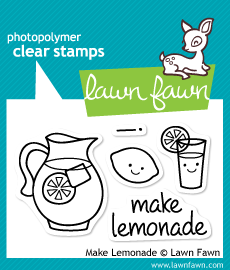 So for my news… This will sadly be my last post with
Paper Issues
, but I will still be popping by there from time to time. I'm doing a coaching course and studying is taking up a lot of my time so I needed to cut back on some stuff. I've had such a great time on the team, all of the girls are so incredibly gifted, in fact I still pinch myself as to how I ever got on the team in the first place!
Cassie Box
is super talented too and I've nicknamed her the 'Banner Queen'! She does the most amazing banners, in fact she got me into making them.
We have an extra giveaway for you too,we are giving away this
Pink Paislee Declaration Paper Pack
..
Well that's it from me today. I hope you enjoyed my little project. As this challenge is all about Picnics & Patriotic I thought I would finish by leaving you with the little card I created for my very first challenge theme at
Paper Issues
…
If you've never played along it's simple, you just have to find/make a project that fits in with the theme and link it up, that's it! There's also some fab goodies in the
Paper Issues Shop
so pop on over there and if you use my code,
Ruby 2 Shoes
, you will get a 20% discount.
Have fun!